Private Internet Access Review
If you're looking for a fast, no-frills VPN service, Private Internet Access deserves your attention. It does what it needs to, no questions asked, though we do wish PIA had a little less trouble getting into Netflix and other streaming services. Read our full review to know more.
If not for a few quirks, Private Internet Access would be near the top of our best VPN list. Make no mistake, it's still there, but some concessions make it a good choice rather than possibly the best one.
In this PIA VPN review, we're going to go over the pros and cons we experienced when testing the latest edition. We'll talk features, pricing, user-friendliness, speed, security, privacy, streaming, server locations and customer service before giving our verdict.
PIA's shiny, new exterior brings goodies to play with, but many of our issues remain intact. It's not exciting to use, being tied to the tray with no way of resizing or moving the window. That said, it's fairly affordable, and comes with a lot of features, so you may find it to be the perfect choice for you.
PIA Video Review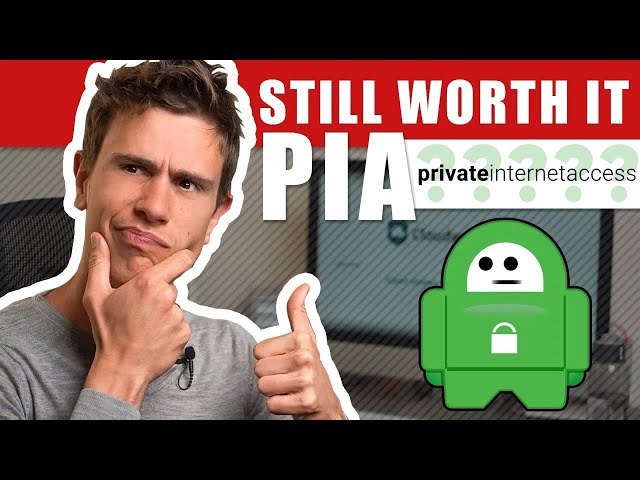 Strengths:
Inexpensive
Built-in ad blocker
Unique kill switch
Fast
Gets into Netflix
Multiple security settings
No logs
"Night" mode
Weaknesses:
Trouble with some streaming platforms
Interface tied to the tray
Inconsistency across locations
Alternatives for Private Internet Access
1

Private Internet Access


www.privateinternetaccess.com

/month

PayPal, Credit card, AmazonPay, Zcash

10 Simultaneous connections

Unlimited bandwidth

U.S. only Can access Netflix US

Allows torrenting

No-logging policy
2

ExpressVPN




★★★ Best VPN 2019 ★★★


30-day money-back guarantee
www.expressvpn.com

/month

PayPal, Credit card, Bitcoin

5 Simultaneous connections

Unlimited bandwidth

Can access Netflix US

Allows torrenting

No-logging policy
3

NordVPN




$$ Best Budget VPN 2019 $$


30-day money-back guarantee
www.nordvpn.com

/month

Credit card

6 Simultaneous connections

Unlimited bandwidth

Can access Netflix US

Allows torrenting

No-logging policy
4

CyberGhost


www.cyberghostvpn.com

/month

PayPal, Credit card

7 Simultaneous connections

Unlimited bandwidth

Can access Netflix US

Allows torrenting

No-logging policy
5

AirVPN


www.airvpn.org

/month

PayPal, Credit card

5 Simultaneous connections

Unlimited bandwidth

Can access Netflix US

Allows torrenting

No-logging policy
Despite its humble and annoying appearance — more on that later — PIA has a lot of features. Though not much was added in the recent update, the old favorites are still around — and better than ever, at that — with a few small additions that add a twist to the virtual private network experience.
Any decent VPN should have a kill switch, and PIA falls in line. It has a feature we've never seen before, though. There are three modes for the kill switch: "off," "auto" and "always." The naming scheme is confusing. According to PIA, "auto" will block outside traffic while the VPN is on, and "always" will block all traffic when the VPN is disconnected.
We have seen an ad and tracker blocker, though. PIA includes MACE, which uses a list of domains known to serve ads, trackers and malware to block them. It takes time for it to come into full effect, but once it gets going, it's good. It's on par with CyberSec, the malware blocking tool NordVPN includes (read our NordVPN review).
The other features are centered around customizing the VPN, as long as you know what you're doing. For example, you can request port forwarding in the application. Unlike providers that allow you to set the specific port, though, PIA selects the port for you.
Other settings include the key size and specific data authentication method you use, as well as the cipher and key size of the network handshake. We'll talk more about those in the "security" section.
Though PIA's interface isn't brimming with settings, it has surprising depth. That said, it doesn't have everything we want. Most notably, you can't set up split tunneling in the application, which is a feature that our top-rated provider, ExpressVPN, as well as some medicore providers, such as StrongVPN, offer (read our ExpressVPN review and StrongVPN review).
Private Internet Access Features Overview
Starts from
$
3
33
per month
Payment methods
PayPal, Credit card, AmazonPay, Zcash
Worldwide server amount
53 locations in 33 countries
Can be installed on routers
Can access Amazon Prime Video
Encryption types
128-AES, 256-AES, RSA-1024, RSA-4096
Enabled at device startup
Malware/ad blocker included
PIA is one of the cheapest options around, combining low prices with short-term subscriptions to provide an excellent value to subscribers. It's even as cheap as PureVPN. PIA is a much better service, though, as you can see in our PureVPN review.
Most providers charge in the $100 range for a year of service, and PIA has obviously decided to undercut them, charging $40 per year. You also have a six-month option, but that's only $5 cheaper, so not a very good idea, probably.
The only deal we can think of that is better is CyberGhost's three-year plan at $100. If you have the money, this may be a good idea as it is a better provider (read our CyberGhost review for more on this).
PIA has a refund period, but unlike the standard 30 days, or 45 days in CyberGhost's case, PIA only offers a week. We'd rather have a week than nothing, but, then again, we'd rather have a month than a week.
If you prefer to try out a free VPN before doing anything else, check out Windscribe or read our Windscribe review.
As for paying for a subscription, PIA puts the ball in your court. In addition to accepting standard payment options, such as PayPal and credit cards, it accepts multiple cryptocurrencies — including bitcoin, litecoin and ethereum —  as well as anonymous payment via Zcash.
There's nothing difficult about signing up for PIA, but accessing the application is obnoxious. As with any VPN, you choose a plan and checkout. Interestingly, though, you don't need to enter your email. When paying with PayPal, PIA automatically ties your PayPal email to your account, which is annoying, especially if you're trying to use a burner email address.
That said, you can't use a burner email address, anyway. PIA doesn't clarify it, but you'll need to check your email to find your account credentials. Instead, it just tells you to download the application and log in, without indicating where to find your credentials.
We can appreciate the attempt to streamline the process, but when signing up for almost any online account, you'll need to provide an email and password. The fact that PIA doesn't have that step makes it feel like you haven't checked out completely.
Find the email and copy your credentials. PIA provides a username and password, both of which seem to be a random bundle of letters and numbers, so make sure you have a password manager handy to store them. Our best password manager guide is a good place to find one.
It may not be apparent where to enter your credentials, though. PIA has a revamped interface that starts in the tray. Though the previous iteration was also controlled in the tray, there was a setup and login screen that you had to go through before using it. That has been cut.
Apparently there's a tour that's supposed to guide you through the new interface, but it didn't start when we installed the application.
What has been gained, though, is a much more fluid user experience. Though it's still annoying that it's in the tray, PIA has some semblance of a regular interface now. In fact, it gives you a lot of control over the VPN without making you go into multiple submenus.
The main screen has a large "on" button, which, as you can probably guess, will get you connected. PIA has a server selected based on your location, and clicking it will bring up the full server list. Picking your own server isn't bad, but it's nothing we haven't seen before. You can scroll through the list or search for a location, which is standard.
What isn't standard is PIA's expanded view. At the bottom of the main screen, there's a small down arrow that will move the "on" button out of the way and bring up a list of sections. There are sections for usage, speed, quick connect, account information, IP address, server and quick settings.
PIA Metrics
Accessing those metrics and settings quickly is enough, but you can pin any number of the sections to the main display. Say you want to see your IP address, performance and account information. You'd check those areas to be included in the default display, while the others get tucked away in the expanded interface.
It's a great feature, and something we'd like to see from other providers, but there's a problem. PIA being chained to the tray makes it more difficult to appreciate the updated interface. The previous version of PIA was purely function, so living in the tray wasn't that big a burden. Now that it has one of the better interfaces out there, it's annoying that the window can't be dragged.
The only thing that is free is the settings menu, which you can access by clicking the three dots in the top right corner. As far as the settings go, they're mostly the same as the previous version of PIA, but in a layout that's much easier to access. There are a couple of noteworthy additions, though.
At the top of the list is "light" and "dark" mode. By default, PIA uses the latter, which has a gray background with white text. Other providers have attempted a "night" mode, but it usually doesn't come out great. PIA's, on the other hand, works perfectly.
There are also some miscellaneous settings that allow you to tune your VPN connection, such as setting a smaller maximum transmission unit for the connection, which should help the reliability of less stable connections.
Overall, the updated interface is great. There's one backbreaking caveat, though. Being tied to the tray makes the user experience infuriating, especially when there are so many new, exciting settings to tinker with. We doubt PIA will move away from that type of access, but if it did, it would be among the best when it comes to user-friendliness.
PIA earned second place in our fastest VPN comparison, falling behind ExpressVPN. Though it's not as consistent as or top pick, PIA is capable of fast speeds around the globe, and our outing with it this time backs that up. That said, during the testing for this review, we noted a higher level of inconsistency than we saw during previous testing sessions.
| Location: | Ping (ms) | Download (Mbps) | Upload (Mbps) |
| --- | --- | --- | --- |
| Unprotected (St. Louis) | 9 | 169.34 | 11.3 |
| Chicago (recommended) | 16 | 65.49 | 10.23 |
| London | 107 | 100.72 | 8.82 |
| Sao Paulo | 156 | 124.58 | 3.11 |
| Tokyo | 163 | 52.49 | 5.27 |
| Sydney | 253 | 122.19 | 2.6 |
It's important to note that PIA installs with AES 128-bit as the default encryption, though. Having a smaller key size means faster speeds, so we upped the encryption to AES 256-bit for this batch of testing. If you stick with PIA's default configuration, you'll get faster speeds.
That brings up interesting results. PIA is capable, producing most of our unprotected download speed in Sydney, Sao Paulo and London. That said, other locations, such as the location recommended in Chicago, took more than half of our speed, which isn't a great testament to the service.
Taken together, PIA has a high average, especially if you're using the small key size, which should be fine for those tunneling in privacy-friendly countries. When looking at individual results, though, the speeds aren't as impressive. PIA has some level of inconsistency, and though it isn't as high as, say, NordVPN's, it's still there.
That said, we want to make a note about the recommended server. In this batch, it didn't perform well, but when we conducted our speed tests, the location in New York City was the best performer out of the lot. That suggests that PIA isn't inconsistent based on country, but rather based on the specific location you're trying to access.
Though PIA made the list in our fastest VPN guide, it didn't make the cut in our best VPN for gaming guide where latency is the key concern. It has a low latency, so you could use it for online gaming, but the six providers in our guide have lower latencies.
As mentioned in the "features" and "user friendliness" sections, PIA has a lot going on, despite its minimalist approach. That's true with security, too. There is a surprising number of security features that allow you to balance speed and security on your connection. Backed up with a unique kill switch and MACE, PIA's security package is excellent.
PIA isn't set up for the best in VPN security by default, though. Your connection is secured with AES 128-bit with OpenVPN after PIA is installed. As far as VPN protocols go, OpenVPN is the best, and PIA lets you choose the transport protocol you want to use with it and the specific port you want to tunnel through.
The default configuration is a problem, though. It's not difficult to up your key size, and PIA gives you multiple ways to do so, but the default is concerning for those who need strong security and don't know what that looks like. If you want to know the difference key size makes in security, read our description of encryption.
That said, you can increase the key size. PIA even gives you the option to choose your message authentication method and handshake cipher/key size. We've only seen flexibility like that in a few providers, most notably TorGuard (read our TorGuard review).
The security works perfectly. PIA was able to pass our DNS leak test without revealing requests and hid our source IP address and WebRTC information, too.
Privacy is tricky with PIA. The privacy policy is long, detailed and filled with legal jargon, which, though annoying, is a good thing for clarifying what's collected and what isn't. That said, unlike providers that use their websites' privacy policies as their services' privacy policies, PIA only talks about what's collected from users on its website.
Outside of that, you're left with "no traffic logs" under the features list. PIA also lists "U.S.-based corporation" as one of the reasons to choose the service, which we can't agree with.
Thankfully, doing due diligence pays off — for better or worse, as you can see from the scandal between BestVPN.com and Buffered VPN.  In response to a question asked by a user on PIA's knowledgebase, a support agent made it clear, saying, "PIA absolutely does not keep any logs, of any kind, period."
That isn't just talk, either. In 2015, Ross M. Colby was arrested on offenses relating to hacking. PIA was brought into the mix after the FBI noticed multiple PIA-owned IP addresses during the attack. If you've read our IPVanish review, you know that generally isn't a good sign.
PIA's good faith paid off where IPVanish's didn't. PIA was wrapped up in the mess, but it never did, nor could it, provide records to the FBI, even after being subpoenaed to do so. Instead, Colby was reckless and borrowed his father's internet connection for 10 days in July 2015. The FBI pulled the records from Comcast, found that the stars aligned and arrested Colby.
That was the second time PIA was called to court and proved unable to provide records to government agencies. Coming out with clean hands once is enough, but twice confirms that PIA doesn't keep your data on record. It has a proven track record in court, despite its dubious location in the U.S.
PIA earned an honorable mention slot in our best VPN for streaming guide, mainly because it can access Netflix. Unfortunately, it didn't make the cut in our best VPN for Netflix roundup. With spotty performance across servers and occasional slow speeds, PIA can break down the walls of Netflix, but it may not provide the best experience.
It couldn't make our best VPN for BBC iPlayer guide, either. PIA failed to access Hulu, Amazon Prime Video and BBC iPlayer. The detection systems of those platforms made quick work of PIA, even though it was occasionally able to slip past them. Considering the majority of locations couldn't, though, we're leaning toward the side that PIA will fail in most situations.
PIA has 3,279 servers in 53 locations across 33 countries. The server count is high, but the spread is just okay. Compared to HideMyAss, which has around 200 locations, PIA's network doesn't look great (read our HideMyAss review). PIA's network isn't bad, either, but it doesn't impress us.
As for the specific locations, PIA isn't limited to the usual suspects. Though locations in North America and Europe still make up most of the list, PIA has a surprising presence in Central America and South America, as well as a decent spread in the Middle East, with locations in Turkey and Israel.
During our testing period, PIA was experiencing "extended response times," which it announced on the homepage of its knowledgebase. During our last outing, we noted a response time of a few hours, but this time around it took a little less than a day. Though its response was thorough, the longer wait isn't great.
That said, we were warned beforehand. Given the quality of the support we received, we're inclined to believe PIA is still using the system it was so you'll likely have faster responses once the dust settles.
While you're waiting, though, self-help may be better. PIA's knowledgebase works well, answering common questions and solving common errors. There's a brevity to the posts, which makes some complex topics more difficult to digest. The information is there, but it isn't always accompanied with resources to make it easy to understand.
That's a small complaint, though. In a vacuum, PIA's knowledgebase works well. It's only when compared to providers, such as ExpressVPN, which uses its knowledgebase as a learning resource, that it looks unimpressive. As a pure support resources, PIA's knowledgebase is abundant.
PIA gets a lot right, mainly in its pricing and abundance of features. That said, it has a few missteps, including an annoying user experience, problems with streaming platforms and inconsistencies in speed. The main issue is the tray-based interface, though, which is largely dependent on your preferences.
If PIA's minimalist mentality appeals to you, the system it has will likely be an upside. For us, its approach is a con, so use your best judgment when going to check it out. If you're of the same mind as us, you can read our other VPN reviews for more options.
What do you think of PIA? Let us know in the comments below and, as always, thanks for reading.
Private Internet Access FAQ
How to Install Private Internet Access on Firestick
PIA isn't available in Amazon's App Store. Thankfully, you can download the APK file from PIA's site and transfer it to your Firestick to complete installation. Read this guide to learn more. 
How to Uninstall Private Internet Access
You can uninstall PIA like you would any other application. For Windows, go to your control panel and click "uninstall an application." Find PIA and select "uninstall" to remove it. 
How Many Devices Does Private Internet Access Support?
Private Internet Access support up to 10 simultaneous connections. It can be installed on any number of devices, but only five of them can be connected at one time. 
Where is Private Internet Access Based?
Private Internet Access is a U.S.-based VPN provider that's headquartered in Denver, Colorado. 
Who Owns Private Internet Access?
Private Internet Access is owned by London Trust Media, who owns a number of other brands, including Linux Journal, IRC and BlockExplorer.