Carbonite Review
Offering ease of use and unlimited backup for one device, Carbonite is without a doubt one of CommQueR.com's favorite online backup providers. However, slow backup speeds are a big a concern. Read our full Carbonite review for the details.
Carbonite has been a part of the backup market since 2005, which is ancient in IT years. Still, it has a lot of experience and that shows. It's great for personal users who want unlimited backup for one or more computers and don't mind paying a premium to get it.
That said, completing your backup will take a lot of time because Carbonite is among the slowest services we've tested. You can't make it faster by increasing the number of backup threads, but you can make it slower if it interferes with your system resources.
On the bright side, Carbonite's easy to use whether you're on the desktop client, web or mobile. Automatic backup will relieve you of the trouble of manually selecting files for backup and the straightforward restore process will help you get your files back.
You won't have to worry about your files because Carbonite provides private encryption, along with other security features. It's privacy protection doesn't disappoint, either. In fact, it's among the strongest we've seen.
If all that sounds like it's up your alley, stick with us as we go into more detail in this Carbonite review. Otherwise, pick another service from our best online backup list.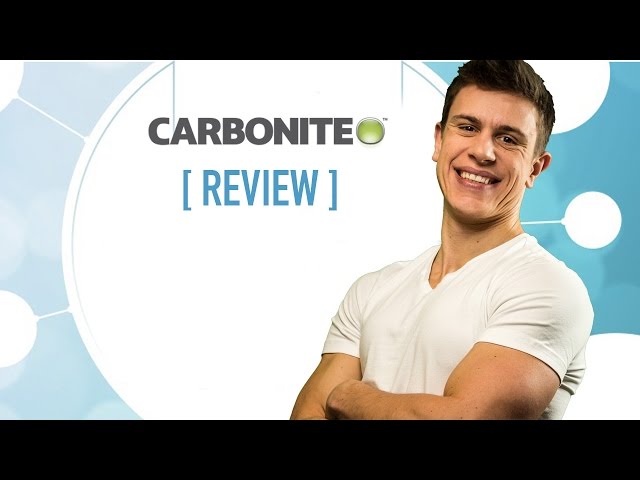 Strengths:
Unlimited backup
Backup by file type
External hard drive backup
Courier recovery service
Strong privacy
Private encryption
Weaknesses:
Slow
Could offer better deals
No monthly subscriptions
Limited mobile backup
No versioning for macOS
Alternatives for Carbonite
1

Carbonite


www.carbonite.com

/month

Continuous Backup

Incremental Backup

External Drive Backup

NAS Backup

Unlimited Backup

Versioning

Private Encryption
2

Backblaze




★★★ Best Unlimited Cloud Backup ★★★


www.backblaze.com

/month

Continuous Backup

Incremental Backup

External Drive Backup

NAS Backup

Unlimited Backup

Versioning

Private Encryption
3

IDrive




★★★ Best Cloud Backup ★★★


www.idrive.com

/month

Continuous Backup

Incremental Backup

External Drive Backup

NAS Backup

Unlimited Backup

Versioning

Private Encryption
4

Duplicati


www.duplicati.com

/month

Continuous Backup

Incremental Backup

External Drive Backup

NAS Backup

Unlimited Backup

Versioning

Private Encryption
5

Jungle Disk


www.jungledisk.com

/month

Continuous Backup

Incremental Backup

External Drive Backup

NAS Backup

Unlimited Backup

Versioning

Private Encryption
Unlike the best cloud storage services, Carbonite isn't meant to reduce the amount of space taken on your hard drive or sync data across devices. As an online backup service, it helps you when disaster strikes by recovering your files. That's useful because your hard drive might crash and take your data with it. Solid-state drives are better but experience more data errors.
If you need both, you can go with a service such as IDrive, which can backup your data and provide you with sync space. You can learn more about it in our IDrive review. If you're not clear on the difference between online storage and online backup, read our explanation.
Carbonite provides unlimited storage space without secret data caps or limits on your transfer speeds. Because it's unlimited, you won't be able to backup unlimited devices. Instead, you can only backup one device or computer with a personal plan. That's the usual trade-off when choosing between unlimited backup and unlimited devices.
That said, you can use Carbonite to backup photos taken with your smartphone. Consult our best unlimited online backup article to see how Carbonite compares to other unlimited backup services.
Carbonite Features
Besides unlimited backup, Carbonite's features include backup scheduling, private encryption, automatic video backup, remote file access and versioning, which doesn't work on macOS. Plus, all plans besides Carbonite Safe Basic can backup external hard drives.
Carbonite works with all common file extensions. Because it's unlimited, it can automatically tag common file types for backup after you install it. That said, automatic video backup is only available for Carbonite Safe Plus and Carbonite Safe Prime subscribers. Basic users have to upload videos manually.
Carbonite also has a courier recovery service that sends you your restores in the mail, which can be much faster than downloading them. Most backup services don't offer that.
Though Carbonite lets you backup your external hard drives, it can't backup to external hard drives. That's not a huge miss, though, because unlimited backup doesn't work well with a limited number of external drives.
On top of that, Plus and Premium subscribers no longer have access to the mirror-image backup feature. Mirror-image backup takes an image backup of a computer's operating system drive and backs it up to an external hard drive. That allows users to restore their computer's OS and applications back to the same computer.
Carbonite says it removed the feature because versioning limitations prevent mirror-image backup from protecting users as well as file-based backup. That might be true, but the mirror image feature was valuable because it allowed for quick recovery of crashed hard drives.
We'll talk in more detail about backup and security features below, so read on. Consult our backup library to learn more about cloud backup.
Unlike cloud backup services that offer a single unlimited plan, such as Backblaze, Carbonite offers three: Basic, Plus and Prime. The plans are targeted at home and business users who don't have many computers. Note that the plans only allow you to backup one internal hard drive.
Basic is $71.99 a year and provides unlimited backup with no additional features.
Plus gives you external drive backup and automatic video backup for $111.99 a year. It's the most popular plan, but it's expensive compared to Backblaze's plan, which is just $60 per year and offers the same features. You can read more about Backblaze in our Backblaze review.
Prime is $149.99 per year. It adds courier recovery service on top of Plus's features.
On any plan, you can save 5 percent if you subscribe for two years or 10 percent if you sign up for three. You can also buy Carbonite Safe Backup for up to 100 computers. If you're not sure about Carbonite, you can use the free 15-day trial to make up your mind.
The design of Carbonite's web client is drab but functional. The main page shows the computers you have backed up. You can also view or restore your files, add a computer or reinstall Carbonite.
The menu on the left lets you navigate to your credit cards and subscription and personal information, as well as see your payment history and access support. If you have data in your backup, you can use the search bar to locate files or folders by name or with a specific extension.
The Carbonite desktop client works on Windows and macOS but not Linux. For Linux support, consult our best online backup for Linux article. Once you install it, it'll guide you through the process of creating a backup. It's simple and you only have to complete one step.
Carbonite automatically selects the most common file types to backup on a continuous basis. If you're fine with that you can just start the backup process or you can delve into the advanced settings. Automatic backup is convenient because you don't have to spend time manually selecting files and folders you want to save.
You can launch the client from the system tray icon. The client presents the most important information you need to see right away.
The left side shows an image of a computer and a link that displays the settings. The middle displays the status of your backup and lets you add files to it, turn on automatic backup or restore files. The right side shows the cloud and the option to view your backup.
The button to restore files is called "get my files back" and the link to preview files says "view my backup." Those names won't confuse anyone.
Carbonite Color Coding
Carbonite color codes your files, so you can see their status at a glance.
An orange dot on a file means it's selected for backup, while a green one means the file has been backed up.
A yellow dot on a folder means files or subfolders in the folder have been selected for backup. A half-green dot means the folder is selected for backup and some files in it are backed up, while others haven't been selected for backup. A green dot on a folder means all files in that folder are backed up.
The mobile app is minimal and easy to use. You can use it to access your backup, as well as save your backed up files for quick access and offline access. Plus, you can add more computers for backup, which means Carbonite will send you an email with a link you need to open from the computer you want to backup.
The app was last updated in October 2017, though, and it's Google Play Store rating is a modest 3.7 stars.
File Backup & Restoration
After you install the Carbonite desktop client and start the initial backup, the client will scan your hard drive for files and begin uploading them.
As mentioned, you don't have to pick the files you want because Carbonite selects them for you. Its selection is smart and it includes documents, pictures, music, email, browser bookmarks, financial data and "everything important."
Carbonite excludes some OS and temporary files from the automatic backup. You can see which ones in the list of excluded file types on its website.
Initial backups often take a lot of time to complete. Once it's finished, though, it'll be much faster thanks to continuous backup, which uploads files when you change them. To do that, Carbonite uses a block-level file copying algorithm.
The algorithm only transfers the parts of the file that changed, rather than the whole file. We recommend using continuous backup . In this case, as in many others, it works without impeding the rest of the system. That said, if you prefer to schedule backups for when you're not using the computer, you can do that, too.
You can choose to backup once per day at a specific time or set it up to not backup during certain hours. Though that's convenient, Carbonite has fewer scheduling options than other services. For example, Acronis True Image lets you run backup twice per day at specific times, every one to eight hours, weekly, monthly or upon an event.
You can read more about Acronis True Image in our Acronis True Image review.
Carbonite keeps your content in data centers that use RAID. That means your files are located on multiple servers for redundancy, which helps keep them safe if a server malfunctions. Carbonite has at least three copies of your backup on 15 hard drives.
Restoring files with Carbonite is easy. Click the "get my files back" button in the desktop client. The next window lets you choose to restore everything or specific files or folders.
If you need to restore all files, you have the option to choose between restoring to their original location or downloading to a new folder on your desktop.
If you choose to restore specific files or folders, the desktop client will open the Carbonite website to help you locate the content you need. That's useful if you need to restore something quickly and don't have time to do a full restore.
The web client displays your content based on your file system, so you shouldn't have issues finding it. If you do, you can use the search bar to find files by filename and extension. Once you've located your content, click the download button beside it to download it or select multiple files and folders using the check boxes, then click "download."
Carbonite Versioning
Carbonite supports file versioning for Windows but not for Mac. Versioning lets you retrieve previous iterations of files, which means you can undo accidental changes to them. Versioning also protects you against ransomware, which can corrupt your files and demand payment for their restoration.
Carbonite keeps at least the three most recent versions of a file, regardless of age. Besides that, it keeps old versions of your changed files for up to three months. Plus, one daily version of the file for each day of the past week, one weekly version for each of the previous three weeks and one monthly version for each of the previous two months that the file was backed up.
Its file retention policy says it keeps deleted files for 30 days. If you're a Carbonite Safe customer living in the U.S., you can use a courier service to restore deleted files. Prime subscribers have courier recovery included, so they only have to pay $9.99 per recovery. If you're using Basic or Plus, you have to pay $99.99.
Regardless of the plan, you have to return the hard drive to Carbonite to avoid paying the non-returned drives fee, which is $130 or $300, depending on the size of the device.
On top of that, users who manage their private key need to upload it before they request courier service. That's understandable because Carbonite needs to decrypt your data before you can use it, but it's still a privacy concern. We're going to talk more about it below.
You can see the pricing information for the courier service in a table on this page.
We said that initial backup can take a long time, but considering Carbonite's results, it might take more than that. How long it takes will depend on your connection speed and how close you are to Carbonite's servers. The rule of thumb is that the transfer speed will be better the closer you are.
You can go to the settings in the desktop client and check the box that reduces Carbonite's internet usage, but you can't increase the number of backup threads to increase the speed.
We use a 1GB zipped folder to test upload and download speeds. We ran our Carbonite tests using an Ethernet connection in Belgrade, Serbia, with an upload speed of 6 megabits per second and a download speed of 100 Mbps.
Those speeds imply that it should take about 21 minutes to upload our test folder and just over a minute to download with no overhead. Our tests results were far from that, though. Our folder took more than an hour to upload and more than seven minutes to download.
We weren't close to the U.S., where Carbonite keeps its data centers, and the results reflected that, but they're still poor compared to other services.
| | First attempt: | Second attempt: | Average: |
| --- | --- | --- | --- |
| Upload time: | 00:59:50 | 01:25:00 | 01:12:25 |
| Download time: | 00:03:11 | 00:12:22 | 00:07:46 |
Carbonite uses the 128-bit SSL protocol to protect files against man-in-the-middle attacks, which occur during the data transmission process. It encrypts files at rest on its servers with AES 128-bit encryption. That's not as strong as its heavier cousin, AES 256-bit, but it provides ample security. As far as anybody knows, no one has cracked it.
By default, Carbonite handles your encryption key for you. That enables the company to reset your password if you forget it, but it also presents a privacy risk because a rogue employee could use it to read your files. To avoid that, you can turn on private encryption.
If you do that, use a password manager to avoid losing your password. If you don't know of any, you can pick one from our best password managers of 2019 roundup.
When you turn on private encryption, Carbonite switches to AES 256-bit. Because you have the private key, the company can't read your files or supply them when required to by law.
Though cracking your private key may be next to impossible, that's not the case with your passwords. A weak password is easy prey for brute force attacks, so create a strong one. That said, even if your password is strong, you should turn on two-factor authentication.
Once you do, your login process will have an additional layer of protection to help keep your account safe. Whenever you enter your credentials, you'll be asked to enter a security code. You can receive it via text or phone call. You can learn more about Carbonite's security approach in its security whitepaper.
Carbonite holds your data in hardened data centers. Such data centers are designed to withstand natural disasters, such as fires and earthquakes, as well as physical and virtual attacks.
Access to its data centers is controlled by a combination of biometric scanners and electronic key cards. Closed-circuit television surveillance is available, along with temperature control, uninterruptable power supplies, backup generators and server access controlled with electronic key cards and PIN codes. Guards are active 24 hours a day, 365 days a year.
Carbonite's privacy policy is straightforward and doesn't have the suspicious clauses some cloud services do. Carbonite's privacy policy is clear and states in a direct manner what types of data it collects, which include data provided by users, such as name, address, email, credit card and other information required for registering and purchasing a Carbonite product.
Besides that, Carbonite stores your filenames, sizes and extensions, along with information about connected devices. It also collects data about your IP address, browser type, device type, internet service provider, referring or exiting pages, OS and date and time stamps.
Carbonite says it uses the data for various purposes, such as sending marketing materials with the consent of the user or customer, facilitating backup and restore of data, archiving, providing technical support and complying with the law.
The service says it won't sell personal information to marketers or other vendors and it doesn't access data stored by customers. That said, Carbonite sometimes shares information with third parties, but only to ensure internal products will run.
If you don't want to receive marketing materials, you can opt out by emailing [email protected], contacting customer support at 1-877-222-5488 or the appropriate geographical phone number found here.
Under applicable data protection laws, customers and users have the following rights in regard to personal data handled by Carbonite:
The right to access personal data held by Carbonite.
The right to request correction of personal data that's incomplete, incorrect, unnecessary or outdated.
The right to request erasure of personal data that's incomplete, incorrect, unnecessary or outdated within a reasonable period of time.
The right to request restriction of processing personal data for certain reasons
The right to get a copy of personal data from Carbonite in a structured, secure, commonly used and machine-readable format.
The right to withdraw consent for personal data to be processed at any time if that data is being processed based solely on consent and not any other legal basis.
The right to contact the relevant data protection regulator regarding Carbonite's handling of Personal Data.
Carbonite also adheres to the EU-U.S. Privacy Shield and the Swiss-U.S. Privacy Shield frameworks. It also complies with the General Data Protection Regulation, or GDPR, that's in effect for EU citizens. Read more about it in our GDPR guide.
If you get stuck, your first option is to browse the Carbonite knowledgebase. It lets you filter help topics by product and device. Once you choose a product and device, you get a list of common topics and popular articles. There's also a video library that has several tutorial videos on popular topics. You can search the knowledgebase, too.
If that doesn't help, there's an FAQ section that has answers to common questions. If that still isn't enough, you need to contact technical support.
Unlike many services, Carbonite provides phone support to all customers. Phone support isn't available 24 hours a day, but you can call any day of the week, excluding U.S. holidays, from 9 a.m. to 8 p.m. EST.
Email support is available, too, and Carbonite says responses generally come within 24 hours. To test that, we asked questions using the contact form. Carbonite's response came in under six hours, which is great. It was detailed and had links to help us learn more.
On its customer care page, Carbonite claims to have more than 200 agents who have a Microsoft Technology Associate certification. Carbonite's customer service has won 64 awards over the last five years.
Carbonite does a good job of providing unlimited backup. Considering the deal from Backblaze, Carbonite isn't as cheap as it could be, but it's not among the most expensive services, either. It's easy to backup your files and restore them thanks to a fine desktop client. If you're on another computer, you can use the browser client to view and restore your backup.
The files in your backup are protected by strong security features among which private encryption is king. A clear privacy policy ensures your privacy, too. That said, Carbonite is slow, doesn't have versioning for macOS and could be cheaper. If that breaks the deal for you, consult our online backup reviews to find an alternative service.
What do you think of Carbonite? Is it suitable for you? Do you use another services? Tell us in the comments below. Thank you for reading.
Starts from
$
6
00
per month
for

Unlimited GB
Two-Factor Authentication