Here at CommQueR.com we've gone through a ridiculous amount of VPN providers to provide you with the very best VPN reviews possible. In this article, we've decided to let our two favorite providers fight it out in an arena of our devising: it's an ExpressVPN vs NordVPN rumble in the digital jungle.
In many ways, the choice between going for either ExpressVPN or NordVPN will be based on personal preference. In our overview of the best VPN providers, ExpressVPN has come out on top, but really only by a slim margin. We'll go into the details further down, but if you're expecting a smackdown like in our ExpressVPN vs PureVPN article, you're going to be disappointed.
Nor is this an article like our ExpressVPN vs IPVanish matchup, where one weary fighter is up on the ropes while a fresher one dominates. NordVPN and ExpressVPN are more or less equally old, have comparable user numbers and offer the same basic level of security. The devil is, of course, in the details, so expect the battle to hinge on those.
With these introductions out of the way, let's go through our battle rounds. If you prefer to skip the chat and make up your own mind, we recommend you either read our ExpressVPN review or NordVPN review, or even go directly to ExpressVPN or NordVPN if you feel especially adventurous. If you just want the highlights, we also have a video version of this article.
ExpressVPN vs NordVPN Video Review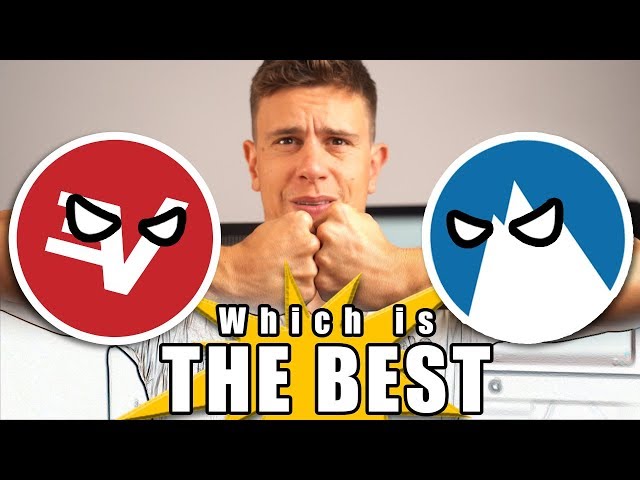 The Battle: ExpressVPN vs NordVPN
For this match, we've decided on six rounds that we feel are the priorities for most consumers. We'll start off with deciding which of the two is the best VPN for streaming, which is pretty important in this age of geoblocks. Next up will be another major consideration, namely the price of the two services.
With the basics out of the way, we'll be talking about the user friendliness of ExpressVPN and NordVPN, before moving on to our speed tests. We finish up with a comparison of the VPNs server networks and then, to round it all out, a sharp look at the security features of both.
Eagle-eyed readers may have noticed that we haven't much mentioned privacy yet, and that's because it's something of a non-issue here: both VPN services have a stellar track record when it comes to keeping your data and browsing history a secret. Neither keeps logs and know very little about you indeed, so whichever way you go, you're safe in this regard.
With the sawdust spread in the proverbial ring, the crowd must be ready to go. Let's skip further introduction and watch ExpressVPN and NordVPN throw down.
---
1

ExpressVPN




★★★ Best VPN 2019 ★★★


30-day money-back guarantee
www.expressvpn.com

/month

PayPal, Credit card, Bitcoin

5 Simultaneous connections

Unlimited bandwidth

Can access Netflix US

Allows torrenting

No-logging policy
2

NordVPN




$$ Best Budget VPN 2019 $$


30-day money-back guarantee
www.nordvpn.com

/month

Credit card

6 Simultaneous connections

Unlimited bandwidth

Can access Netflix US

Allows torrenting

No-logging policy
The battle starts with both fighters eager to shed blood: one of the most important reasons that people start using a VPN service, besides securing their privacy, is streaming. Netflix, Hulu, Amazon Prime Video, you name it, all are either inaccessible from outside the U.S. or have a wildly differing catalog from country to country. VPNs can get you past these geoblocks by spoofing your location as the country you want to watch from, though not all perform equally.
The good news is that both ExpressVPN and NordVPN are among our picks for best VPN for BBC iPlayer and best VPN for Netflix. The bad news is that this round is a tie: both do a great job of circumventing geoblocks and VPN detection systems and it's impossible to truly decide that one is better than the other.
The upside of NordVPN is that you have a large number of servers to pick from in any given location (more on that in the "server network" round, below), meaning no proxy error can hold you back for long, while ExpressVPN has more countries for you to pick from Netflix-wise, while also offering better speeds. It also seems to always have a slightly larger percentage of servers that are able to pass the blocks.
Though a bit unsatisfactory for a first round, we're calling this one a tie, simply because both services get you into all streaming services, though you'll have to do some server switching in most cases.
With the first round a bit of a dud for both fighters, NordVPN comes out strong in the second round, storming out its corner and hooking some body shots on the reigning champ. When it comes to cost, NordVPN beats ExpressVPN hands down. Though we'll let the rest of this article decide which of the two offers better value for money, NordVPN is, quite simply, a lot cheaper.
---
---
NordVPN offers a wide range of packages: you can go month-to-month (almost always a bad idea with VPNs; if you're strapped for cash, check out our PIA review), but the real savings lie with its one-, two- and three-year deals.
In fact, you can't beat its offer of three years of use for just $108, one that is only matched by CyberGhost (check out our CyberGhost review for more on this). You'd imagine that ExpressVPN as a market leader would match this offer, somehow, but you'd be wrong, as you can see in the table below.
---
---
The only way to use ExpressVPN and not have your wallet cry out for mercy is by going for the annual plan, which will set you back the same as a three-year one with NordVPN. Currently, CommQueR.com readers who pick that plan get an added three months for free, so rather than twelve months of use you get fifteen.
This is far from the worst deal you can find among VPN services (for an example of one of those, read our Hide.me review), but compared to NordVPN's, it's pretty weak. When it comes to money, there's no way we can in good conscience do anything but give this round to NordVPN.
With the match barely started, ExpressVPN has already incurred a loss, but the champ isn't fazed. It knew this round was a loser for it to begin with, so it knows now begins the work of whittling down NordVPN's early advantage. On the other hand, the contender is invigorated by its early win, meaning both are circling each other, jabbing and feinting their way through the third round.
When it comes to ease of use, NordVPN and ExpressVPN are quite different from each other: Express favors a minimalist approach, while Nord prefers a strong control room feel. This is obvious from the moment each program is started: ExpressVPN goes for a mobile-style app even on desktop.
NordVPN goes very much the opposite direction with a super-cool interface that has more bells and whistles you can shake a stick at, yet remains clean and clinical throughout.
This is one of those times personal preference comes into play: both interfaces do what they need to do without fuss, but we can understand if you prefer the one over the other. Both recommend themselves to rookie users: ExpressVPN because it's really just one big massive button you click on, NordVPN because you can find what you need quickly and easily.
A small advantage goes to NordVPN when it comes to people who know what they're doing: NordVPN allows for more tweaking and twiddling in its menus. You can set the kill switch, determine the protocol, all that, all right there in the options menu. It's not recommended that you mess with anything unless you're sure of what you're doing, of course, but it's possible.
ExpressVPN, however, comes out ahead for expert VPN users: while both providers mainly use the OpenVPN protocol (it's safe and fast), only Express allows you to directly mess with the OpenVPN configuration files. You could do it if you wanted to with Nord, but it's trickier. This gives ExpressVPN the edge over NordVPN in this particular case.
When it comes to customer support, we're impressed by both services. Both live chat and email are quick and are obviously staffed by people that know their stuff. You won't be in the dark long if you run into problems using either.
Overall, however, we're going to call this round a tie: both providers have a lot to offer users and the drawbacks are niggles, at best. It really boils down to what you prefer: the minimalist approach of ExpressVPN or the more controlled feel of NordVPN. Both have advantages and drawbacks, and to make the referee's job worse, the mobile apps of both work equally well, too.
So far the fight has been tilted in NordVPN's favor, but ExpressVPN has held its own. The service has, however, let NordVPN exhaust itself and is now ready to strike its first blow, fast and hard.
And it will be fast: ExpressVPN is the fastest VPN by far and wipes the floor pretty much with any other service, despite employing heavy encryption — the better the encryption, the slower your connection will be. In the table below we ran a few speed tests from this author's location in Sarajevo, Bosnia and Herzegovina. Base speed was 24.0m/s download, 27.6m/s upload.
Though most locations might be a few miles from each other, we took care to use servers in relatively close proximity. We tested all speeds using speedtest.net and all within the same 30 minutes.
---
| | ExpressVPN Download (Mbps): | NordVPN Download (Mbps): | ExpressVPN Upload (Mbps): | NordVPN Upload (Mbps) |
| --- | --- | --- | --- | --- |
| Sarajevo, BiH | 21.4 | 18.3 | 24.0 | 26.2 |
| Amsterdam, NL | 20.0 | 7.96 | 21.4 | 25.5 |
| New York City | 13.1 | 11.1 | 20.0 | 11.1 |
| Los Angeles, CA | 14.1 | 0.9 | 22.4 | 0.7 |
| Tokyo, JP | 18.8 | 22.9 | 11.8 | 11.2 |
---
Except for the L.A. download result, ExpressVPN beats NordVPN every time. We suspect this has something to do with the fact that Express seems to use more high-capacity servers rather than several smaller ones, though we can't say for sure.
What is sure is that if you're looking for speed, go for ExpressVPN and accept no substitute.
The battle is a bit more heated now, with both contenders having traded blows. The crowd is likely still a bit divided who to root for, and it's not sure if this next round is going to have one or the other pull ahead.
Both fighters are tied now, and both are getting tired. NordVPN is feeling confident now, figuring that it's ready to strike an easy few blows in the coming round. After all, when comparing server networks, 4489 servers easily beats 2000, right?
Well, not really. Though NordVPN's network is impressive, simply finding a server that works can be an exercise in frustration: with several, smaller servers at each location, they overload quickly, giving you some pretty terrible speeds (which may explain some of the readings during the speed round, above).
ExpressVPN has far smaller number of servers, but they're a great deal "bigger," so to speak, meaning that at no point in our experience have we experienced serious issues with servers being overloaded.
When it comes to spread, ExpressVPN also has the edge: NordVPN has servers in 62 countries, while Express has them on offer in 94. Some of these are highly exotic locations like Algeria and Laos which we doubt many people will be needing, but it's still one of the very few services that covers a significant swathe of both Africa and Asia.
Though this round is on the knife's edge, we're giving it to ExpressVPN, meaning its tactic of waiting patiently for NordVPN to tire itself has worked: ExpressVPN takes the lead as we go into the last round.
Both fighters are tired now, and you can't blame them. ExpressVPN leads, however, by a single point, so let's see if it can keep its advantage or the match will end in a tie. Its luck here is that when it comes to security, it's very difficult to pick the one over the other as they are both alphas in the pack, as shown by their positions in our best VPN for China ranking.
Both services offer 256-bit AES encryption as standard; this is very much a good thing as this level of cipher is practically uncrackable (as far as anyone knows). The difference between the two lies in what you can do to protect yourself on top of that.
In the case of ExpressVPN, you can protect yourself further by going into your OpenVPN config files and increasing encryption there, pretty much a must if you're tunneling under the Great Firewall. It's not the cleanest way to do things and ExpressVPN could take a leaf from competitors and allow you to change this from a menu, but it is a foolproof way of making sure the technically less expert don't do something catastrophic by accident.
NordVPN, on the other hand, doesn't let you tinker much in either the setting or the config file when it comes to encryption, but does give you access to its "speciality servers." The specializations on offer range from P2P (making NordVPN the best VPN for torrenting), but also give you access to DoubleVPN servers.
DoubleVPN servers are a new dimension of security: they will run your encrypted tunnel through a  second server, basically securing your connection twice. You'll see a dramatic decrease in speed, of course, but you're almost guaranteed nobody will be able to spy on your connection.
Both services are equally strong when it comes to their kill switch, too: while they differ a little in how they work, with ExpressVPN's killing the connection as soon as there is a server problem, while Nord's not even letting you access the internet unless it's engaged (though there is an option for a conventional switch for specific programs). We leave the choice of which approach is better to the consumer, here.
The upshot is that both services offer excellent security, meaning you can't go wrong with either of them. This round we'll also declare a tie.
And with that, the match is over. Though NordVPN has nothing to be ashamed about, it does lose this bout by a single point. ExpressVPN is the victor, a result all the sweeter for being so close.
As we predicted in the introduction, comparing ExpressVPN and NordVPN is going to hinge on personal preferences rather than cold, hard facts. Either service will stand you in good stead upon install, meaning that there is no bad choice here.
Do you agree? Or do you have a different experience? Let us know in the comments below and, as always, thank you for reading.
ExpressVPN vs NordVPN Frequently Asked Questions
Here are a few of the most frequently asked questions we've encountered regarding the doifferences between ExpressVPN and NordVPN. Feel free to leave your own in the comments below this piece and we'll get to them quickly.
Is ExpressVPN Better Than NordVPN?
Depends on what you're going to use it for, but in most cases we'd say yes. ExpressVPN is faster, a little easier to use and a bit better for Netflix. However, NordVPN is a lot cheaper than ExpressVPN.
Is NordVPN Good For Streaming?
Yes, it's great, but underperforms a little when compared to ExpressVPN. Overall, however, both are fine choices.
Is NordVPN Cheaper Than ExpressVPN?
Yes, but you need to get NordVPN's three-year plan for the best savings. It's only $8 more expensive than one year of ExpressVPN, so you're saving some serious money.