Cyberghost Review
In this CyberGhost review we're taking a look at a service that we've been pretty impressed with lately, and is continuing to do so with its most recent update. Join us as we go through the features of this very user-friendly (and Netflix-capable) VPN.
Though it flew under our radar for a while, CyberGhost quickly became a favorite here at CommQueR.com, earning a spot in our best VPN guide. A short time after our initial review, it released version 7, which comes with a new set of features and an overhauled interface.
In this CyberGhost review, we're going to spend time with version 7 to see if there are real improvements to the user experience. We'll discuss features, pricing, ease of use, supported devices, server locations, speed, security and customer service before giving our verdict.
Many of the improvements focus on the user experience, which is a good thing considering that was one of CyberGhost's few weak points. Throughout this review, we'll look at whether the updates helped the experience and if the core protection still meets the standard CyberGhost set when we tried it last.
CyberGhost Video Review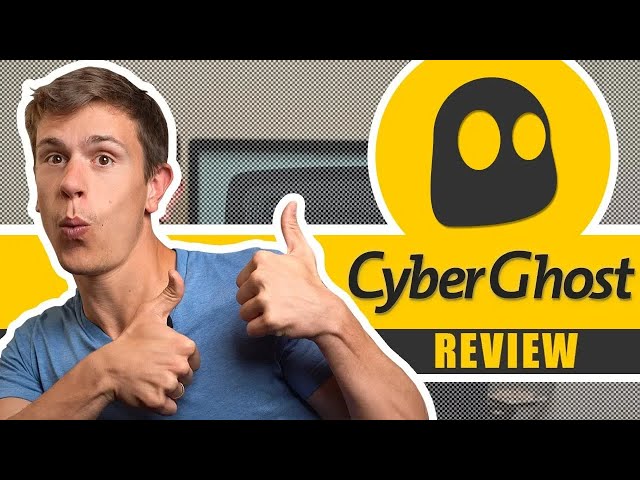 Strengths:
Gets into Netflix
Updated interface
Fast
Automatic kill switch
VPN automation
Inexpensive
7 simultaneous connections
NoSpy servers
Weaknesses:
Lackluster split tunneling
No kill switch controls
Spotty ad blocker performance
Alternatives for CyberGhost
CyberGhost 7 comes with a revamped interface, as well as a new set of features. After spending time with the software, it's clear that CyberGhost tried to leave no stone unturned. Even with that due diligence, though, there are a few features that feel underdeveloped.
Several privacy settings are included with your VPN download. CyberGhost includes an ad, malware and tracking blocker, which, unfortunately, doesn't work. PureVPN is another VPN service that advertises that, but doesn't follow through, as you can see in our PureVPN review. It also has automatic HTTPS redirect and data compression.
At first, we thought this was because we didn't have the CyberGhost browser extension (we were never prompted to install it, after all). That's not the case, though. CyberGhost's browser extension is simply a free proxy that has nothing to do with the VPN. If you're confused about the difference, make sure to read our guide on VPN vs. proxy vs. Tor.
While that's disappointing, blocking and data compression can be handled for free. Check out our 99 free tools to protect your privacy guide for suggestions.
The other features feel more well-rounded. CyberGhost includes "smart rules," which allow you to automate certain aspects of the VPN. For example, you can set it to automatically launch your web browser of choice after establishing a connection.
Those rules apply to WiFi networks, too. We tested it using a dual-band router, so we had SSIDs for the 2.4GHz and 5GHz bands. We could, for instance, set CyberGhost to automatically connect when using the 2.4GHz band and automatically disconnect when using the 5GHz band.
Also in the "smart rules" tab — we'll show you how to get there in the "ease of use" section below — is a list of exceptions. You can set specific URLs to be exempt from the VPN tunnel while others are protected.
That feature is like split tunneling in some ways, but it's more of a tease than anything else. Even mediocre providers, such as StrongVPN (read our StrongVPN review), offer full split tunneling, so CyberGhost's neutered version doesn't look that great.
CyberGhost Security Features
One feature that's absent in the interface, but not entirely, is a kill switch. We initially thought that CyberGhost removed it in version 7, but after doing some research and testing, it's clear that's not the case. The kill switch is there, it's just permanently enabled.
You should be using a kill switch, especially if you're torrenting, but the fact that you can't turn it off is annoying. We like VyprVPN's kill switch more because that VPN service allows you to configure when it cuts your internet connection (read our VyprVPN review).
Even with that downside, CyberGhost and VyprVPN were neighbors in our best VPN for torrenting guide.
CyberGhost also earned a spot in our best VPN for New Zealand guide, partly for its kill switch and NoSpy servers. For an additional charge, which is only about $1 more per month, you can access CyberGhost's special NoSpy servers. They sit outside of the 14 Eyes and are configured with premium hardware.  If you want the best in uptime, security and privacy, those servers are for you.
CyberGhost Streaming Performance
CyberGhost took third place in our best VPN for streaming guide, and it's easy to see why. It has a list of servers dedicated to streaming platforms, making it easy to stream Black Panther, The Avengers or anything else.
It broke into Netflix and BBC iPlayer on the first try, earning it a spot in our best VPN for Netflix and best VPN for BBC iPlayer guides. If you're trying to best the Netflix VPN ban, or bypass geoblocks in general, CyberGhost should be one of the first providers you try.
While we weren't able to test every service CyberGhost has dedicated a server to — there are around 50 at the time of writing — those we did test worked flawlessly on the first try. Hulu, Amazon Prime Video, Crunchyroll, YouTube Red and ESPN all worked, and we imagine the more exotic options will, too. The latter helped earn CyberGhost a spot on our best VPN for ESPN list.
CyberGhost Features Overview
Starts from
$
2
75
per month
Can be installed on routers
Can access Amazon Prime Video
Enabled at device startup
Malware/ad blocker included
CyberGhost has good pricing, especially if you nab the three-year plan, but it's nothing we haven't seen from other VPNs. It's in line with what we'd expect from a top-shelf VPN in that the best value is in long-term plans. The monthly rate is bad and there's no free option. Even so, its enticing money-back guarantee soothes those concerns better than other providers.
CyberGhost's monthly rate isn't as high as Astrill's, though you'll see there are providers that are if you read our Astrill review, but it's not great, either. If you just want to try the service, the monthly plan is fine, but it makes more sense to purchase something longer upfront.
That's because CyberGhost handles money-back guarantees in a strange way. The monthly plan only offers a 14-day refund period, which is fine, but less than, say, ExpressVPN. All other plans come with a 45-day money-back guarantee, which is the longest we've seen from a VPN service.
However, CyberGhost does offer a weeklong trial on its mobile apps and a one-day trial on the desktop apps. It's a bit strange, but if you want to make the most of using it before committing, we recommend you use your tablet or phone rather than your laptop.
Even if you just want to try the service, it's better to purchase a longer duration because you can spend more time with the app while still having the refund safety net. All plans, except for the monthly one, come with free access to the NoSpy servers and a one-year McAfee Total Protection subscription (read our McAfee Total Protection review).
There isn't a free plan, but our worst free VPN guide shows that isn't a terrible thing. If you're on an ultra-tight budget and need protection for free, we recommend Windscribe (read our Windscribe review).
The closest you'll get to free with CyberGhost is its three-year plan much like Goose VPN has (read our Goose VPN review), which drops the price into e-VPN territory (read our e-VPN review) while still offering a much better service. 
The payment options are standard. CyberGhost accepts major credit cards, PayPal and bitcoin, but skips on some of the region-based payment methods. It doesn't accept cash like Mullvad does (read our Mullvad review), but then few providers do.
CyberGhost has revamped its interface for version 7 and we're fans of the changes. It strikes a balance between Private Internet Access and ExpressVPN (read our PIA review and ExpressVPN review) in that it can be minimized to the tray, but it doesn't have to be.
Sign-up is as easy as it was before. From the checkout page, you just need to select a duration and payment method. You'll also have to enter an email to create an account, which, thankfully, doesn't need to match your PayPal email.
One detail we like is that CyberGhost displays the total cost of each plan underneath the monthly cost. It's a small addition, but it ensures that you don't have to go through checkout, then backtrack just to see the total.
After confirming our order, we hit a bump in the road, though. CyberGhost's third and final tab during checkout is called "download," yet there's no link to download anything other than your invoice. Likewise, the email CyberGhost sends you doesn't have a link to the installer.
You have to go back through the homepage and select "my account" to do anything. After you get there, CyberGhost prompts you to enter a username and password, and then show a recovery code to use in case you get locked out. Make sure to keep that recovery code safe.
After that, you can download the application. From your account dashboard, click "my devices," then "add a new device." Unlike providers such as TorGuard (read our TorGuard review), which allow you to install the application on as many devices as you want while limiting the number of simultaneous connections, you can only install CyberGhost on seven devices at a time.
Signing up is simple, but tracking down the installer is not. CyberGhost has such an attractive and user-friendly dashboard that we assumed it would direct us to a downloader. Instead, it was like CyberGhost carried our bags to the door and left them at the bottom of the stairs.
CyberGhost 7 Interface
CyberGhost's new interface is, frankly, weird, but that doesn't mean it's difficult to use. Though the tray-window hybrid management takes getting used to, it's one of the more fluid interfaces we've tested.
After you install the application, CyberGhost will launch in the tray. At least, that's what it looks like at first. A smartphone-sized window will appear in the bottom right corner of your screen as if a tray application was expanded, but it is actually a free window that you can drag around your screen as you please.
CyberGhost will ask you to log in and, after you do so, the application will unlock. If you just want a quick connection, you can slide the "on" switch to the right. The service will automatically connect to the fastest server for your location. You can change that by clicking the "connect to" drop-down menu at the bottom of the user interface.
CyberGhost will show a few available servers, but not the full list. When we tested it, it showed France, Germany, the U.S. and streaming servers for Netflix and BBC iPlayer. To browse the full server list, click "more servers" at the bottom of that drop-down menu or the arrow to the bottom left of the window.
That is where CyberGhost starts to come into its own. You'll see the full server list, along with the number of users, the distance and the server load. A few are favorited by default and they will show in the smaller drop-down menu in the condensed interface.
On the left of the expanded interface, there are options to refine your server search. Below the "all servers" tab are tabs labeled "for torrenting" and "for streaming."
The torrenting servers, like the full server list, will show the number of users, distance and server load.
The streaming servers are unique. Instead of showing the distance, server load and users, CyberGhost displays the service each server is optimized for. It's not just BBC iPlayer and Netflix, either. There's a server in the UK optimized for Channel 4, another in France optimized for Canal+, one in Brazil optimized for Globo SporTV and more.
Though CyberGhost isn't the only VPN service to offer dedicated streaming servers (read our NordVPN review for another), it is the only one to do it as fluidly.
That said, its server selection isn't perfect. CyberGhost doesn't display its full network, rather the countries where it has presence. You can't select individual servers, which, in most cases, isn't that big of a deal. If you're looking for an extreme level of specificity, though, you won't find it here.
CyberGhost 7 Settings
Below the specialized server tabs, you'll find two more tabs: "connection features" and "smart rules." Those tabs cover the majority of features we went over in the first section.
"Connection features" deal with the ad blocker, malware detector, HTTPS redirect and data compression. While loosely named, it is the area where you can configure everything CyberGhost does in your browser.
"Smart rules" has a more appropriate name, as it covers the automation you can configure in CyberGhost. There, you can configure start-up settings, default browser, known WiFi networks and tunnel exceptions.
All other options are found by clicking the "settings" button at the bottom of the screen. The standard VPN fare is there, including your protocol and transport protocol settings. One interesting option is "repair virtual network card." VPNs use specialized software that virtualizes a network card and that can cause many problems with other software.
Because we're constantly installing and uninstalling VPN providers for testing, we've fallen victim to those headache-inducing errors. CyberGhost's catch-all repair button is a unique feature that we wish more VPN providers would offer.
Among the top VPN providers, CyberGhost is the most generous with device support. You can add up to seven devices to your account and they can be connected at the same time. Unlike other providers that have a limit on connections, CyberGhost has a limit on devices. You can only have seven at a time.
That shouldn't prove too much of an issue for most users, though. The number of devices CyberGhost lets you have is higher than ExpressVPN, which offers three, and NordVPN, which allows six. Its high device limit earned CyberGhost second place in our best VPN for multiple devices guide.
Platform support is excellent, as well. CyberGhost supports Windows, macOS, iOS, Android, Amazon Fire TV and Linux. Unfortunately, the Android .apk file isn't available for download separately, so you'll have to use a device with access to the Google Play Store.
It can be used on other platforms, including routers, network-attached storage and custom versions of Linux. CyberGhost has a list of guides detailing how to set it up on Chromebooks, Raspberry Pis and more.
The number of simultaneous connections is more than most providers offer, and CyberGhost has a clear dedication to non-traditional installs. The only thing hurting this section is the lack of a .apk download.
At the time of writing, CyberGhost had more than 5,000 servers in over 80 countries. As mentioned in the "ease of use" section, you can't select individual servers to connect to, so the actual number is somewhat irrelevant.
It's not entirely irrelevant, though. The number of servers in a particular country may indicate speed and uptime, because the more servers there are, the easier CyberGhost can spread the load.
The data centers in the U.S. and Germany have the most servers, with the U.S. having 565 and Germany counting 455. Even the least populated areas have a decent number of servers, though. Colombia has the fewest, only four, followed by South Korea and Vietnam, which each have seven.
CyberGhost has a okay spread globally, but most of Africa and Asia is ignored. Still, there are non-traditional locations. For example, CyberGhost has better presence in the Middle East than most providers, earning it a spot in our best VPN for Oman guide.
We tested CyberGhost's speed against our unprotected speed on five servers. One slot was taken by one of CyberGhost's special streaming servers so we could gauge how well it performed. Our results are pulled from speedtest.net, with the locations increasing in distance from our source.
| Location: | Ping (ms): | Download (Mbps): | Upload (Mbps): |
| --- | --- | --- | --- |
| Unprotected (St. Louis): | 10 | 65.69 | 11.39 |
| United States: | 18 | 22.75 | 10.72 |
| United States (Streaming): | 17 | 25.25 | 10.46 |
| United Kingdom: | 102 | 11.71 | 6.54 |
| Japan: | 169 | 10.01 | 4.12 |
| Indonesia: | 248 | 10.31 | 2.58 |
We're happy to report that CyberGhost is among the fastest VPN services we've tested. While the initial drop in download speed gave us pause, the service was resilient after that. Upload and download speed decreased as distance increased, suggesting that CyberGhost's network is optimized worldwide.
The streaming server we tested held up well. Latency and upload speed remained largely the same, while we got a slight buff to download speed. As long as it stays consistent with the normal servers and it gets into streaming platforms, we're content.
Latency is excellent, too. In the same country, you wouldn't be able to tell a difference (it takes around 300 milliseconds just to blink), so if you're looking for the best VPN for gaming, CyberGhost is a good place to start.
The most surprising result was Indonesia. It was the furthest option from our source, sitting just shy of 9,950 miles away. Though not ideal, it still managed a usable download speed and decent latency, earning CyberGhost third place in our best VPN for Indonesia guide.
Security is yet another strong point for CyberGhost. Your connection is secured with AES 256-bit through IKEv2 by default. We recommend changing the protocol to OpenVPN when you get the chance. You can see why in our guide to VPN security. In addition to OpenVPN and IKEv2, CyberGhost includes L2TP.
It doesn't support PPTP, and we're kind of glad that's the case. PPTP isn't secure, at all, and while it can be used for ultra-fast and somewhat secure transfers, it's an outdated protocol that most users shouldn't touch.
CyberGhost's security should be enough to get you past, say, strict censorship in China, but we're uncertain how deep China's inspection really goes. If you're worried about that, read our best VPN for China guide instead.
The NoSpy servers might be useful in that case, though. As a free addition to CyberGhost's lengthier plans, we see no reason not to try them. NoSpy servers come with premium networking hardware to ensure better speed and uptime while staying out the jurisdiction of the 14 Eyes.
We ran a series of DNS, IP and WebRTC leak tests on CyberGhost and came back with clean results. Not only was CyberGhost able to hide our location and DNS requests, but it did so without a dozen redirects.
CyberGhost Security Features
We've already discussed smart rules and exceptions from an ease of use perspective, but not from a security perspective. Automation can help your security because remembering to configure a VPN in the optimal way each time you surf the web can be tedious.
CyberGhost can set up barriers, so you don't use the internet unless you're protected. Of course, they can be turned off, but the option is there if you're hyper-paranoid. It can launch browsers only after making a connection, automatically secure certain networks and leave websites or servers out of the VPN tunnel.
Plus, CyberGhost has DNS leak protection and IPv6 disable settings in the application.
That said, it's missing a security feature from its previous version. You used to be able to connect to SOCKS5 or HTTP proxies. CyberGhost has a free browser extension that connects you to a proxy, but it feels more like a solicitation to upgrade than anything.
The privacy is solid, as is to be expected from CyberGhost. The service's location in Romania gives us comfort because it's one of the most privacy-friendly countries in the world. Your data would never be handed over and, even if it was, CyberGhost has nothing but your email address. Everything else, including your IP address and location, is off the record.
CyberGhost has one of the best knowledgebases we've seen, which makes sense considering there's only one real direct support option: email. Live chat is available, too, but that's best reserved for simple clarifications. Even so, the self-help is so good that you'll seldom have to send a message.
There's a guide for almost everything, from setting up the Windows application to configuring protocols on Raspberry Pi. The guides are full of detail, with plenty of screenshots, too, making even complex topics digestible.
The knowledgebase is broken into sections, one of them being guides. Outside of that, you can browse troubleshooting articles, the FAQ and recent announcements.
While there aren't a great number of options for direct support, the quality is good. Email is your best bet, as its representatives are trained in the technical aspects of the VPN and respond quickly. They got back to us within a day.
If you need something more surface level, there's 24/7 live chat, too. Live chat is best used for quick answers and direction. Anything technical will take time for the agent to look up or get directed to email support.
Even so, CyberGhost has an excellent support system. Most your time, if you even need support, will be dedicated to the knowledgebase, with live chat available clarification and email support for niche issues. Overall, we have no complaints.
CyberGhost nips at the heels of our top two VPN picks, ExpressVPN and NordVPN, but doesn't quite make the cut. That said, it shouldn't be discounted. It provides an excellent value, especially on the 18-month plan, and comes packed with features.
The core of the service is excellent, too. CyberGhost has expanded its feature set and improved its user experience with version 7, while maintaining the great speed and protection we found during our last review.
You can read through our other VPN reviews, but CyberGhost will remain among the top options.
What do you think about CyberGhost? Let us know in the comments below and, as always, thanks for reading.
What is CyberGhost?

CyberGhost is a virtual private network for Windows, macOS, Linux, Android, iOS and more. It can be used to access streaming platforms, bypass censorship and simply protect your privacy. 

How to Use CyberGhost

After signing for for an account, add a device in your dashboard to download the application. From there, you can click the "on" switch to connect automatically or choose a server using the extended view. 

How to Install CyberGhost VPN on Firestick

CyberGhost offers an official app for Firestick through Amazon's App Store. Search for "CyberGhost" in the App Store, select the device you're installing it on and download the application. 

How to Use CyberGhost with uTorrent

There's nothing special you need to do to use CyberGhost with uTorrent. Simply connect to the VPN and verify your IP address has changed using an online tool.