Ahoy there, mateys! Though we're not supposed to admit it, most of the torrenting done is in the name of piracy and we figured we might as well start this article on the best VPN for torrenting off right. So, cover your eye with a patch and train your pet parrot to say some salty curses, because we're sailing some dark waters in this one.
And dark they are: thanks to the DMCA (and its European counterparts), all the big sites such as The Pirate Bay and Kickass Torrents have been taken down and their place taken by proxy sites and other alternative torrent sites (we try and keep that list updated). If you torrent, you're running a serious risk unless you run the connection through a VPN tunnel.
So, unlike most of these types of articles, where you have a choice of using one of our best VPN providers for whatever activity you're pursuing (well, except maybe for watching porn), please make sure you're using one of the five providers we've selected for you below or face some very unpleasant consequences, like copyright infringement fines and even imprisonment.
Also, if you prefer to watch than read, we have a video recap of this article.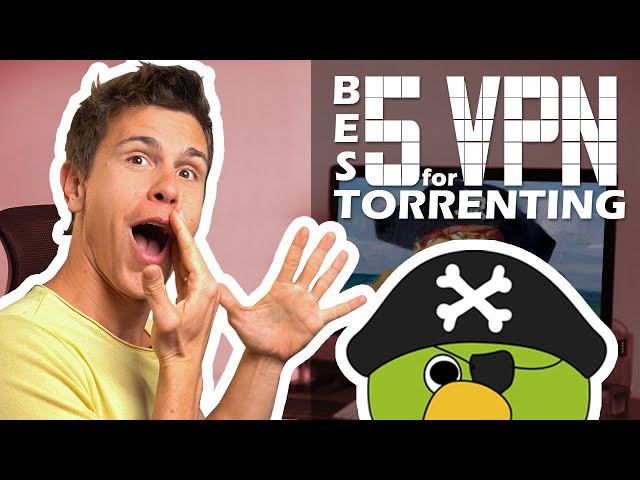 Best VPNs for Torrenting 2019
1

NordVPN




$$ Best Budget VPN 2019 $$


30-day money-back guarantee
www.nordvpn.com

/month

Credit card

6 Simultaneous connections

Unlimited bandwidth

Can access Netflix US

Allows torrenting

No-logging policy
2

ExpressVPN




★★★ Best VPN 2019 ★★★


30-day money-back guarantee
www.expressvpn.com

/month

PayPal, Credit card, Bitcoin

5 Simultaneous connections

Unlimited bandwidth

Can access Netflix US

Allows torrenting

No-logging policy
3

CyberGhost


www.cyberghostvpn.com

/month

PayPal, Credit card

7 Simultaneous connections

Unlimited bandwidth

Can access Netflix US

Allows torrenting

No-logging policy
4

VyprVPN


www.vyprvpn.com

/month

PayPal, Credit card, UnionPay

5 Simultaneous connections

Unlimited bandwidth

Can access Netflix US

Allows torrenting

No-logging policy
5

TorGuard


www.torguard.net

/month

PayPal, Credit card

5 Simultaneous connections

Unlimited bandwidth

Can access Netflix US

Allows torrenting

No-logging policy
What Makes for the Best Torrenting VPN?
Let's make one thing very clear before we go any further: not all the services out there are going to be the best VPNs for torrenting. Peer-to-peer traffic (also known as P2P and in both cases the respectable name for torrenting activity) eats up bandwidth like no tomorrow so most services are rather leery of allowing it to take place.
On top of that infrastructural objection, some services just don't like their networks to be used (they would probably say abused) for sharing copyrighted material. As VPNs are under enough pressure as it is — see our article on censorship in China for one pertinent example — we kind of understand.
The upshot is that, even if you disagree with our recommendations, don't just go off half-cocked and pick any old VPN to help you or you'll be in trouble. A good VPN for torrenting needs to be willing and able to route all those terabytes of disturbing hentai and poor Bollywood rips, and not all of them are.
Among the willing, and that's plenty left, there are a few criteria they need to meet before we'd consider them any good for torrenting. One of them is, obviously, good VPN security. Although the copyright watchdogs of the world are no NSA, if the connection you're using has a DNS leak or worse, they're going to track you down.
All the services below are using strong encryption, usually AES-256 or better, and have been tested for DNS and webRTC leaks (and passed them, of course). In some cases there is some overlap with our best VPN for China picks, simply because when doing something extralegal like torrenting, there's no such thing as too much security.
Another often-overlooked security feature is a kill switch, which is essential for torrenters. If for any reason your VPN server stops working, a kill switch will sever your internet connection altogether so you're not caught with your digital pants down. If a VPN provider doesn't have a kill switch, using it for P2P is a terrible idea; all our picks have one that works.
All the below VPN services also respect your online privacy, maintaining a hard no-logs policy so even if law enforcement shows up with a warrant, there's nothing to be seized. Your real IP address isn't just a secret, it doesn't even exist.
Last but not least, speed is pretty important with torrenting. Although torrenting can speed up quicker than a regular download, getting to that point can take forever if you're rocking a mediocre connection. Using the fastest VPN means you'll have your movies before anyone else does and can get started seeding sooner, to boot.
Using Free VPNs for Torrenting
A quick note on people looking to use a free VPN for torrenting: don't. Though some of the best free VPN services are safe and secure, we wouldn't recommend using them for anything as heavy as torrenting. As for the dodgy apps displayed on the Play Store and the like, avoid them like the plague unless you like inviting trouble.
With all that out of the way, let's get to the naming of names in our list of the best P2P VPN services.
The Best VPN for Torrenting: NordVPN
Though it ranks overall as our second-best VPN service, NordVPN stands head and shoulders above the rest when it comes to torrenting. Not only does it meet all the criteria outlined above, it exceeds them with its custom P2P servers and DoubleVPN servers.
The P2P servers (which you'll need to access separately in a special menu) offer increased security and, more importantly, have a greater capacity to deal with the torrents of information passing through them. DoubleVPN servers aren't as high-capacity, but route your connection through two different servers, giving it an extra layer of protection if you feel you need it.
NordVPN positively encourages torrenting with these measures and the fact that it's strictly no-log, meaning it couldn't hand over your details even if it wanted to. If, however, you're particularly worried about being found out, you can sign up to NordVPN using a throwaway email and pay by bitcoin, cloaking yourself in secrecy even further.
Other Reasons We Like NordVPN
Besides being secure and P2P friendly, NordVPN is also user friendly. The interface is almost entirely operated via graphics, making it great for VPN newbies and veterans alike; for examples, check out our NordVPN review. It's also pretty fast overall, though not as speedy as our next pick, ExpressVPN.
If you'd like to give NordVPN a try, right now CommQueR.com readers get a three-year subscription for just over $100, which you can get by clicking this link. If a multi-year commitment sounds like a bit much, the service also offers a reliable 30-day money-back guarantee.
---
Pros:
Secure
Huge server network
Special P2P servers
Cons:
Not superfast
Only triannual plan is cheap
ExpressVPN is our all-round number one favorite VPN out there, but scores a little less well here because it's not dedicated to torrenting like NordVPN is. That said, using ExpressVPN is easier in one way as all its VPN servers can be used for torrenting, no need to go into any special menus or anything.
Like NordVPN, it also has all the must-have features for P2P traffic, but with one caveat: if you want more than the standard 256-bit encryption you're going to have to mess with the configuration files yourself. Doing so can up your encryption as high as 4096 bits (that's ridiculously secure), but it does require getting your hands a little dirty.
On top of all this security also come the fastest download speeds we've ever tested, with short-range connections only losing a few percent and even transatlantic ones only dropping by about a third. For the full results, check out our ExpressVPN review. These speeds also put it on our number one spot for the best VPN for streaming, in case piracy is less your style.
Other Reasons We Like ExpressVPN
ExpressVPN is also very easy to use thanks to its simple, app-style interface that you can freely move around your screen without it taking up too much real estate. Connecting is a question of hitting one massive, in-your-face button, so checking whether you're hooked up is a small matter.
The downside to ExpressVPN, for all its benefits, is the high price. One year with ExpressVPN costs nearly as much as three with NordVPN or the number three in this list, CyberGhost. You're getting some serious bang for your buck, though, and it does come with a 30-day money-back guarantee, so you can see for yourself if it's worth the investment.
---
Pros:
Fast
Secure
Based in the British Virgin Islands
This Romanian provider has spent a lot of time under the CommQueR.com radar, much to our regret. A few years ago it was a middle-of-the-road service that got a lot right but a few things wrong, but has since evolved into a pretty badass service that has kept torrenters in the forefront of its mind.
As you can read in our CyberGhost review, the service does things a little differently than most other providers in this list: rather than offer you a list of servers and letting you figure it out on your own from there, you get to choose from several "profiles" instead. Profiles are based on what you'll be doing on the internet: choosing the "torrenting" profile sends you to the nearest P2P-enabled server.
Roughly half of CyberGhost's many servers allow for torrenting, so even if you choose to connect manually you'll have plenty of options to choose from. Add to that a built-in, always-on kill switch and you're in buccaneering business.
Other Reasons We Like CyberGhost
CyberGhost has one of the best server networks for Europe: it covers every single country on the continent with several locations and VPN servers. Outside of Europe it falls a little short sometimes, though the North American network is still better than that of most competitors. Still, it made it to the top three in our list of the best VPN for Netflix for its versatility.
The three-year subscription plan costs as much as that of NordVPN, plus CyberGhost offers a seven-day free trial for Android and iOS users, on top of the customary 30-day money-back guarantee. CyberGhost offers plenty for everybody, including easily configured security settings, so there's no harm in taking it for a spin.
---
Pros:
Free trial for mobile
Easy to use
Secure
Cons:
Meh network outside Europe
Not as fast
In fourth place we find VyprVPN, a solid provider that just doesn't have the speeds or server network the best VPNs offer. On the upside, however, all its servers allow P2P traffic and the service is very strictly no logs: though based in the U.S., the only thing a warrant will turn up is your email address.
Besides that it has a hair-trigger kill switch and can handle the load of whatever you throw at it, though again you're limited by the size of the network itself. Also, as you can read in our VyprVPN review, its interface could do with a small facelift.
Other Reasons We Like VyprVPN
Golden Frog, the company behind VyprVPN, takes online privacy very seriously indeed, so you never need worry that your data will disappear into some marketeer's pocket. It's also pretty good at getting around the Netflix VPN ban, handy if you don't want to torrent and just maximize your streaming experience, instead.
VyprVPN offers a 30-day refund window which should be enough time for you to decide whether it's the service for you.
---
Pros:
Great network in U.S.
Anonymous
We close off our list with TorGuard, a good service that turns great once you put in some elbow grease and brain sweat. All its servers are good for torrenting and allow you to configure your connection in such a way that you can double-hop your encryption the same way NordVPN does, though a little less conveniently.
With TorGuard, anonymity is the name of the game, so copyright pirates as well as Usenet fans and deep web visitors have nothing to worry about using the service. The downside is that TorGuard's best servers need to be subscribed to separately, which will set you back a few extra dollars per month on top of the subscription fee. Then again, that could be worth it.
Other Reasons We Like TorGuard
As we mention in our TorGuard review, the service is pretty much what you make of it: there are far better out-of-the-box VPN services out there, but once you know what you're doing, TorGuard feels more like a personal VPN than a commercial service.
It's also one of the best VPN for Linux out there, so tinkerers will be doubly pleased with it. TorGuard sports a seven-day refund period, so give it a spin and see if its DIY attitude is a good fit for you.
---
Pros:
Secure
Configurable
Linux support
Cons:
Hard to use
Dedicated servers cost extra
Honorable Mention: PIA
Private Internet Access is on the forefront of the fight to keep net neutrality and many other internet rights as well. You'd expect a service that's so vocal to be a big proponent of P2P and you'd be right: PIA offers torrenting-friendly servers, a hair-trigger kill switch and great customizable security, as you can read in our PIA review.
What's cool about PIA is that the service runs all its torrent traffic through another VPN: not only are you getting the benefit of NordVPN's DoubleVPN feature, but PIA itself avoids all kind of copyright notices falling on its doormat. PIA comes with a seven-day money-back guarantee, so even if you don't like it, your money is safe.
Dishonorable mention: IPVanish
Although it's often mentioned in one breath with many other torrenting-friendly VPNs, the glory days of IPVanish are over, as you can read in our IPVanish review. The service made its mark in the early days of copyright tracking, but since then has made few improvements and at time of writing it's unclear whether it does, in fact, make your IP vanish. Take care when using this service.
Final Thoughts
And with that we'll end this roundup: though we feel NordVPN and ExpressVPN will hit most torrenters' sweet spot, all the other entries have plenty going for them as well. We do feel we should once again emphasize that torrenting without a VPN is inviting disaster, so whatever you do, get yourself protected before once again sailing the low seas.
What do you think of our list? Do you agree with our picks or are we just swashbuckling our way through VPN land? Let us know in the comments below what your best VPNs for torrenting are. Take a look at our VPN archive while your here. Thanks for reading.
Frequently Asked Questions
Over the years we've heard many comments from readers about VPNs and torrenting. Below some of the most frequently asked questions.
Is Torrenting Safe with a VPN?
Yes, as long as you use a good VPN. Free VPNs are out, for one, and even many that you pay for are iffy as they might share your details with law enforcement when presented with a warrant. Read our PureVPN review for one example.
Do You Really Need a VPN for Torrenting?
Yes, absolutely. There are a handful countries in the world that turn a blind eye toward torrenting, but that number is ever decreasing. Almost everywhere now being caught using P2P means getting massive fine or even jail time.
What Is the Best Free VPN for Torrenting?
None. While there are some VPNs that offer a free plan and are safe for torrenting, none of them will allow the kind of bandwidth you need to download a movie.