Dropbox Review
The service that made cloud storage pretty much, Dropbox still hasn't fallen victim to the usual trap for trailblazers, offering speed and ease of use. Its security leaves much to be desired, still, though, and it's a bit too cozy with Big Brother if you ask us. Read our Dropbox review for the details.
Dropbox was launched in 2007 and is one of the best cloud storage services on the market. It's also the second most popular, Google Drive has more users with close to 1 billion versus Dropbox's 500 million (read our Google Drive review to see why that may be). That said, the number is still impressive and the service does well on our best cloud storage comparison.
Dropbox suffered a breach in 2012 and lacks zero-knowledge encryption, which doesn't make it a candidate for one of the most secure cloud storage services. That said, its ease of use is streamlined, so most users will feel at home whether they use the desktop, mobile or web version. It works for collaboration, too, because it integrates with Office Online and has a native note-taking app.
It can't brag about its prices, though, because they aren't among the most competitive on the market. We'll dive into pricing and other categories in this Dropbox review, so stick with us to learn the details about the service.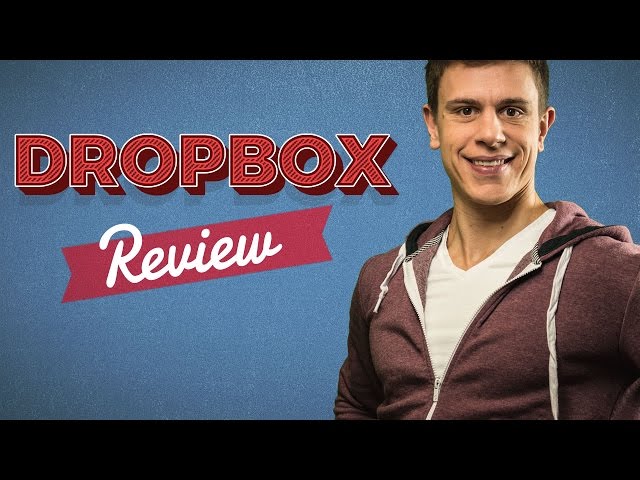 Pros:
Office Online integration
Dropbox Paper
Fast sync
Smart sync
Cons:
Expensive
Not zero-knowledge
Could be more privacy-friendly
1

Dropbox


www.dropbox.com

/month

Sync Folder

File Link Sharing

Folder Sharing
2

Sync.com




★★★ Best Cloud Storage ★★★


www.sync.com

/month

Sync Folder

File Link Sharing

Folder Sharing
3

pCloud


www.pcloud.com

/month

Sync Folder

File Link Sharing

Folder Sharing
4

Google Drive


www.google.com

/month

Sync Folder

File Link Sharing

Folder Sharing
5

OneDrive


www.onedrive.com

/month

Sync Folder

File Link Sharing

Folder Sharing
Dropbox's business version, Dropbox Business is one of the best cloud storage services for collaboration, but the personal version is no slouch. If you'd rather read about the business version, check out our Dropbox Business review.
Many cloud storage services provide good collaboration options by integrating with Google's office suite or Office Online. Dropbox integrates with the latter. You can use Office Online to create a Word, PowerPoint or Excel file directly in your Dropbox folders. You can edit documents after you upload them, too.
If you need to work with Google's office suite, as well as Office Online, try Box. Before you do, though, read our Box review to learn what you're getting into.
Dropbox Paper is an app that you can use to take notes, embed media files and collaborate with others. It can't do much else, though. There are better note-taking apps, which you can read about in our best note-taking apps article. That said, if Dropbox's version intrigues you, read our Dropbox Paper review.
Dropbox has another app called Showcase. It enables you to share your files on a professional-looking page, which is a nice addition. There's no way to share directly to social networks, though.
You can do a full-text search to through the content of your files and find what you're looking for. That includes documents scanned with the mobile app, which is a nice addition because the mobile app lets you scan a document, tweak the scan and upload it as a .pdf or .jpeg file to the cloud.
On the Plus plan, versioning lets you restore deleted files or older versions from the last 30 days. If you need more time than that, you can subscribe to the Professional plan or one of the team plans. You can find alternative services that allow restoration from a longer period and don't have expensive plans in our best cloud storage for versioning article.
Dropbox also lets you view photos and play music and videos. Its audio-playing capabilities are basic, so it didn't make our best cloud storage for music list. pCloud is at the top there thanks to its advanced audio features. Dropbox is featured on our best cloud storage for photos and videos, though.
If you want to save space on your hard drive using Dropbox you can enable smart sync if you're on the Professional or a team account. It lets you access every file and folder in your Dropbox account from your computer without using hard drive space. That means content doesn't sync to your computer, but also that you can't access it when offline.
Dropbox Features Overview
Starts from
$
8
25
per month
for

1000 GB
Two-Factor Authentication
Dropbox doesn't have competitive prices. It's going to take a serious update for it to make our best deals in cloud storage ranking.
The Plus plan is $9.99 per month or $99 per year. It gives you 1TB of storage, 30-day version history, Microsoft Office 365 integration, priority email support and the standard cloud storage features.
If you decide to go with the Professional plan, you will get shared link controls, extended version history, advanced collaboration tools, such as smart sync and Showcase, and access to chat support. It's $16.58 per month or $198.96 per year.
Standard and Advanced plans are suitable for teams. Standard gives you 3TB of shared space for $12.50 per user per month or $150 per user per year. It includes features such as an account transfer tool, HIPAA compliance, a team folder and centralized billing.
Advanced gives you as much storage as needed for $25 per user per month or $240 per user per year. It brings advanced team features, such as single sign-on, administrator roles, log auditing and phone support during business hours, to the table.
Before subscribing to any of the premium plans, you can use the free plan, which offers a puny 2GB of storage, to test the service. You can add to it by completing tasks, but it's still far from the deals in our best free cloud storage piece.
How easy it is to use a service is as important as the features it has, if not more important. The reason for that is users won't know how good a feature is if they can't access and use it in a straightforward way. The design is important, too, because it's more enjoyable to use an app that's modern and attractive.
Dropbox has a reputation for providing a good user experience, and that's justified for the most part. To interact with it, you can use the desktop, web or mobile app.
You use the desktop version by accessing the system tray icon. It can open your sync folder, web app or Dropbox Paper. Plus, it shows your notifications and recent files.
To tweak Dropbox, you need to click the gear icon and open the preferences. There, you'll see tabs that help you change general, account, sync and other settings. The desktop app has a sleek and attractive design so you won't be confused about what to do.
You can do the same song and dance using the web app. It has a menu on the left that lets you navigate between the homepage, your files, Dropbox Paper and Showcase.
The "files" page is where you'll do most of the work. There, you can see your files in a big or small grid and as a list.
You need to go to the menu behind the three dots to manipulate individual files, which is a common solution, but we'd prefer to be able to do it using right-click, too. You can select more than one file and perform an action from the menu on the right.
The creepy smiley icon in the top right corner lets you access your settings, upgrade your account or download the installer for the desktop app.
The web app is clear and easy to use. You can drag and drop a file anywhere and it will start to upload. Accessing pages and features is fast, too.
The mobile app doesn't disappoint, either. It's easy to use and gives you the option to automatically backup your photos and videos. It also lets you share your files and save them for offline access.
Sharing is one of the staples of cloud storage services, so it should be easy to do. You should be able to use it to share links directly to major social networks, send them via email or copy and paste them. Content control options that protect your shares are paramount. When you want to share a folder, you should be able to invite users and assign them a set of permissions.
You can share every folder and file you store with Dropbox from your desktop, smartphone or browser.
Each cloud object has a "share" button associated with it in the browser interface. Clicking that button opens a window in which you can input the email addresses of those you wish to share with.
Dropbox lets you share links by copying and pasting them or sending via email, but it can't share directly to social networks. If you want to stop sharing, you can delete a link. You can protect your link by using a password or expiry date, disabling downloads or selecting specific individuals who can access it.
Subscribes to the Plus plan don't get those features, and that's one of the service's biggest drawbacks. If you want to use them, you have to subscribe to the Professional plan, which is twice the cost.
Sync.com gives you those features on all of its plans, as well as features Dropbox doesn't have. Check out our Sync.com vs. Dropbox article for more comparisons. If you're interested in Sync.com, read our Sync.com review. Those who want to compare several services at once should read our best cloud storage services for sharing piece.
When sharing folders, you can set permissions to "edit" or "view." There's a page that shows you what you've shared, too.
If you want to invite others to share with you, the "file request" feature can help you do that. You can even invite users who don't have a Dropbox account to do so.
Dropbox invented the model of sync that most cloud storage services use. It consists of a system tray icon and a sync folder. Any file or folder that you place in the sync folder will be synced to the cloud and the devices connected to it.
Dropbox has selective sync, which lets you select the folders you want to sync. To do that, click the system tray icon, then the gear icon in the top right corner and select "preferences." Click the "sync" tab, then "selective sync," then uncheck the folders you don't want to sync.
The folders you unselect won't take space, but they also won't be shown on your computer. If you want the best of both worlds, you can use the smart sync feature that we talked about earlier. That said, it would be nice to have the ability to quickly copy files or folders into your sync folder from the context menu of your files explorer like you can with Sync.com.
Dropbox has servers in the U.S., Your transfer speeds will depend on how close you are to them and your internet service provider. We did our tests using a WiFi connection in Belgrade, Serbia, with an upload speed of 6 megabits per second and a download speed of 100 Mbps. We weren't close to Uncle Sam, but the results were still great.
Upload speeds weren't as fast as we would expect on our connection, but they still averaged 27 minutes and 20 seconds for a 1GB file, which is fast. Downloads took more than twice the time they should have, though, with an average of three minutes and 42 seconds.
| | First attempt: | Second attempt: | Average: |
| --- | --- | --- | --- |
| Upload time: | 00:32:00 | 00:22:40 | 00:27:20 |
| Download time: | 00:03:48 | 00:03:37 | 00:03:42 |
That said, Dropbox shines when transferring already-uploaded files thanks to block-level sync. The algorithm helps it determine which parts of the file are new, so the app only has to transfer those. It's useful and Dropbox invented it, so it's no wonder the company does it well.
If Dropbox slows down your computer, you can go to the preferences menu and throttle the bandwidth. Dropbox handles sync well, so you shouldn't need to do that, though.
Because cloud storage services are on the internet, they are a ripe target for malicious individuals, so good security is a must. Hackers won't hesitate to go after your data with ransomware or man-in-the-middle attacks. They might try to steal your login credentials, too.
Cloud services use many methods to secure your data against potential threats. The TLS protocol prevents man-in-the-middle attacks from succeeding and encryption secures your data in-transit and at-rest. Private, end-to-end encryption prevents anyone other than you from reading your files.
Two-factor authentication will stop hackers who've stolen your password from accessing your account. Still, you should make sure you have a strong password, to begin with.
Dropbox has had a turbulent history with security. It was the center of attention during a breach in 2012. Sixty-eight million passwords were stolen, and the incident wasn't reported until years later. Dropbox was connected to the PRISM project in 2013, too. The company took measures after the breach, though, and its security is much better.
It uses AES 256-bit at-rest and the TLS protocol with AES 128-bit to protect your files in-transit. The level of encryption is strong, but Dropbox decrypts your files when they arrive at its data center to extract metadata for indexing and re-encrypts them afterward.
You metadata remains in plain text on a separate server. That's not the best scenario for your privacy, so consider using Boxcryptor, a private encryption add-on (read our Boxcryptor review).
Dropbox doesn't have zero-knowledge encryption, it extracts metadata from your files and it has a history with the PRISM project. It's based in the U.S., as well, so it has to adhere to the laws there. Laws such as the USA Patriot Act and CLOUD don't help users' privacy.
That's a couple of strikes against Dropbox's approach to privacy already, but we're going to examine its privacy policy to see if there are more.
The privacy policy doesn't mention the General Data Protection Regulation, the law that protects the privacy of EU citizens, but Dropbox has a page that details its preparation for complying with it. It says it complies with the GDPR, but it's confusing that the privacy policy doesn't mention it.
The privacy policy mentions rights users have, though, and they correspond to some of those in the GDPR. They are the right to delete your information, change it or access and download it.
We didn't find suspicious clauses, but the privacy policy could be clearer. Tresorit has one that's easiest to read and navigate. To find out more about a security powerhouse, read our Tresorit review.
The easiest and fastest thing you can do to get help is consult the articles in the help center. They're divided into categories for quick access. The articles are clear and easy to follow, but they could be improved with the addition of video tutorials.
If you don't find a solution to your problem, you can ask a question in the community forum. There are many active members and Dropbox's community moderators help resolve issues.
You can send an email to contact support if your using a Basic or Plus account. The email contact form says a response will come within one to three days. Using a free account, we received a response a little more than a day later. That said, the response time is slower than most services we've tried.
If you like to tweet, you can contact technical support on Twitter, too.
Dropbox has gone a long way toward strengthening its security since the breach. That's a boost to its reputation for providing great ease of use, fast sync and sharing capabilities. The high price tag detracts from the overall impression, though, along with missing zero-knowledge encryption.
Those who aren't concerned about their privacy or don't store sensitive information in the cloud won't have to worry about rogue employees reading their data. They will be able to enjoy Dropbox's Office Online integration, Dropbox Paper, Showcase and smart sync.
Are Dropbox's features enough to sway you to try it? What about its questionable practices regarding metadata and the lack of private encryption? Let us know what you think in the comments below. Thank you for reading.
Starts from
$
8
25
per month
for

1000 GB
Two-Factor Authentication